What exactly does Hyperconverged Infrastructure mean?
Hyperconverged Infrastructure (HCI) combines common datacentre hardware using locally attached storage resources with software to create flexible building blocks. These blocks replace legacy infrastructure, storage networks, and storage arrays.
HCI converges the entire datacentre stack and replaces infrastructure with a platform running on turnkey servers. This enables businesses to start small and scale one node at a time. Software running on each server node distributes all operating functions across the cluster for superior performance and resilience.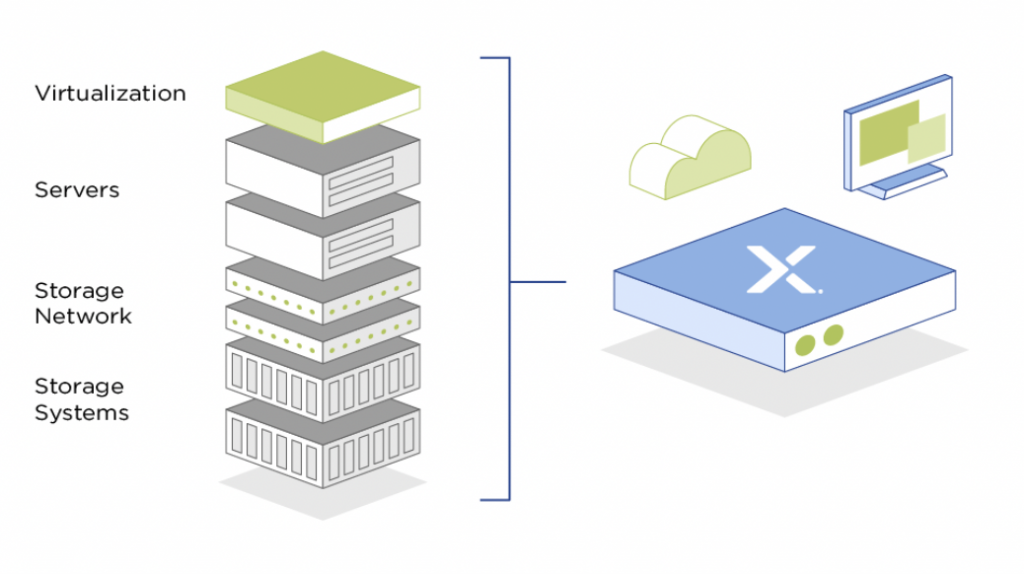 Perhaps like many people, you are used to using 3-tier architecture that is well established in your business. It's understandable to not want to uproot everything that has been a part of your DNA for so long – however, HCI is an investment worth making.
We've had a look at the key problems that IT businesses are likely to encounter, and the ways that HCI can thankfully ease those pain points.
Here are 5 key problems that HCI will solve:
1. Costly and Complex VDI Development
All IT businesses have the same common aim – to deliver results for their clients. Everyone from Technicians to Directors needs everything to be responsive, run smoothly, and be financially viable.
HCI is the cost-effective, streamlined solution that you need to deploy VDI.
2. Monotonous Management
No one wants to spend their time labouring over tedious device management tasks.
HCI has everything that you need in one place so that you can manage your entire infrastructure in one remote location.
Using for – and paying for – one management tool will save time and money, ensuring that your time is freed up to do the important stuff.
3. Staying on Budget
As much as we would all love an unlimited budget, it's a very unlikely possibility. We all face tight purse strings and strict budgets. To make a big change, it needs to be financially justifiable.
All the elements of legacy 3-tier architecture are below:
Separate support costs
Support teams
Licensing costs
Upgrade costs
Administrative costs
Power and cooling costs
Datacentre footprint costs
Hiring specialists
Storage provisioning costs
While 3-tier architecture can initially appear cheaper than HCI, this is a long list of the hidden costs. It all adds up.
HCI may ask for more of an upfront cost, however, this will work out as better value for your money when you consider all the costs that accumulate to keep legacy 3-tier architecture going. It's an investment that will pay for itself.
Want the numbers? Check out this handy TCO/ROI calculator from our partners, Nutanix, to see how much you can save.
4. Needing to Scale Well
Chances are that you are familiar with the Resource Prediction Dilemma – a difficult job where you're asked to predict your consumption and growth in 3-5 years time. Often, this ends up being a bit of a wild guess on the overgenerous side – which means you're left with wasted resources that you've paid for.

HCI has a pay-as-you-grow model so that your resources expand as your business does. You can simply add on the required nodes as and when you need them.
At Couno our priority is to make sure that you'll never pay for more than you need, and that nothing will be wasted.
5. Having the Capacity to Innovate
More time and money = more innovation. It's as simple as that! The 80/20 rule suggests that 80% of your budget should go towards keeping everything running smoothly. The remaining 20% should be earmarked for innovation and creative thinking.
This is something that a lot of businesses would love to do, but just don't have the time or resources to dedicate towards fuelling innovation.
However, any growing business must create this space.
When your employees are not at capacity with tedious maintenance jobs, and you're not getting additional payments out of the blue to justify – you will all have more time and capacity to think big and work well on more rewarding projects.
HCI will enable you to consistently plan for everything necessary to keep your datacentre afloat, giving you more surplus resources to use for your business' benefit.
Get started today. It's worth the change.
To learn more about Nutanix, and to book a "Test Drive", click here to visit our new micro-site.