IT Support in London, throughout the UK and Europe
IT is an integral part of every modern business, so you need to work with a provider you can trust. Couno is a leading IT support company working with commercial and public sector organisations throughout the UK and Europe.  Our clients are all different, with their own unique requirements and business objectives. But they have one thing in common – a need for flexible, reliable IT systems that work for them.
We understand how difficult it can be to make decisions about which IT services you need, so we've made things nice and simple. You can choose from a range of ad-hoc services as and when you want them, or sign up to a contract with guarantee service levels. We'll gain a clear picture of your organisation and talk you through all the options, with absolutely no obligation.
Good business is all about putting customers first, which is exactly what you can expect from us every step of the way.
Pay as you go IT support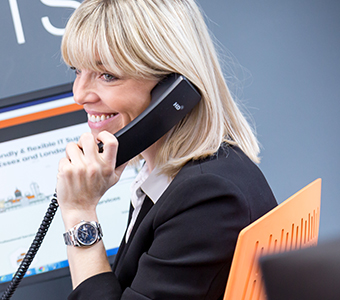 You might not feel ready to commit to a long-term relationship, and that's ok. Our pay as you go IT support service is perfect for organisations that don't want to be tied in to a contract but still demand great quality. Our rates are highly competitive and you'll have the freedom to pick and choose the services that best fit your organisation. We offer a huge range of services, from one-off support issues and disaster recovery to help with projects and strategic plans.
There's no need to worry about nasty surprises on your bill either – our charging system is totally up-front, fair and transparent so you'll know what to expect from the word go.
24/7 remote monitoring
We're firm believers in the old saying "prevention is better than cure", and that's particularly true when it comes to IT. Cyber crime is now the number one threat to businesses in the UK, with different and more malicious viruses being discovered every day. Couno's advanced monitoring software keeps an eye on your entire system even when you're safely tucked up in bed, protecting you from costly, damaging outages and cyber-attacks. It's more important than ever to keep your systems and software patched and up to date, so we're constantly working away behind the scenes to keep things ticking along like clockwork.
We'll begin with a full audit of your hardware and software, identifying any vulnerable areas and providing extra protection where you need it. Because everything is designed to fit around your organisation, you can rest assured it will be the perfect fit.
Remote support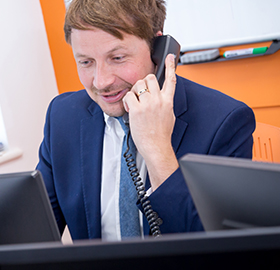 We're friendly and great at building lasting relationships, but that doesn't mean you should become a part of the furniture. In fact, we think that seeing too much of your IT people is bad news. If they have to keep turning up to fix things, something's very wrong – your IT system should add to the productivity and efficiency of your organisation and not keep going wrong. But for all too many companies computers are a major bugbear that result in lost time, money and customers.
With Couno's remote service you no longer need on-site support for your IT, because we'll have it all covered without even stepping foot in your office. You'll be able to benefit from expert support with everything from desktops and laptops to software, printers, servers and mobile devices – your entire IT infrastructure.
The vast majority of problems are easily fixed remotely, but more complex issues are quickly escalated to our third line support team who will be happy to come out if necessary. Either way, you can rest assured that costly and time-consuming IT niggles will become a thing of the past.
Onsite support
Couno's onsite IT support service offers unlimited remote support from our dedicated service team with unlimited on-site engineer time and 24/7 monitoring.
For many businesses, employing an IT support engineer is prohibitively expensive. On the other hand, calling in a freelancing expert to put right problems with your computer hardware or software takes a lot of time and costs a lot of money because, no matter how good your freelancer, he or she has to understand your system first before they can solve any problems without causing unintended consequences.
Our onsite support is a fully-scalable, all-office-hours solution that fits around the exact needs of your business. Couno becomes your IT team for a fixed cost agreed in advance which your company has unlimited access to.
Bespoke support
Your company is unique, just like all the people that make it tick. So why would you want your IT system to be exactly the same as everyone else's? Our bespoke IT support services are specially created to work around the ever-evolving needs of your organisation, so you don't have to waste money on anything you don't need. We offer a full range of IT, telecoms and communications support, including:
Remote monitoring
Ad-hoc troubleshooting
Telecoms and cabling
Onsite support
Remote support via phone and email
Strategic planning
Project management
The choice is yours, but we'll be more than happy to give you our ideas about how our tailored solutions can best support your business. With a carefully configured IT system that's designed around the user experiences of staff and clients, you'll have a distinct competitive advantage.
Click to find out more about how you can shape your company's future with Couno.
Service desk support – IT support UK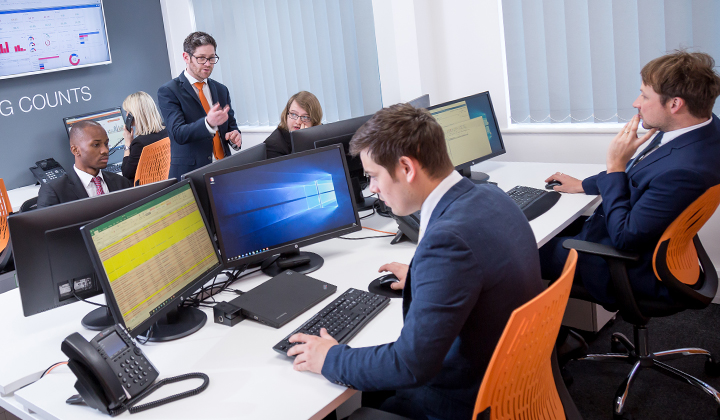 Everyone needs a helping hand from time to time. Our outsourced service desks cover everything from last-minute IT staff shortages to troubleshooting and advice. Our highly qualified team of experts will diagnose and manage computer and network problems quickly and efficiently, so you don't have to worry about things like downtime and low morale.
The vast majority of issues can be fixed over the phone, but if your query is more complex we'll liaise with your in-house contact to discuss the fastest, most cost-effective options.
From occasional queries to a fully outsourced solution, Couno is here to make your life easier.
Support for IT managers
IT Managers don't have it easy. Computers are supposed to simplify things for us but it doesn't always work that way. And with the modern workplace so dependent on them, tempers fray when things go wrong.
Our specialist support services are designed to take the heat off IT Managers during difficult times, as well as offering a fresh perspective on strategy and project work.
We can provide as much or as little support as you need, so don't be afraid to ask. We're here to help you keep things running smoothly.
Business IT Support
Employing dedicated in-house ICT staff can be very expensive when you're not a multi-billion company. But that doesn't mean you have to miss out on a great IT system that does everything you need it to and has the power to help you grow.
Couno's business IT support services are designed to keep your costs down while providing excellence in service and outcomes. You'll receive full IT support and maintenance whenever you need it, from our friendly and experienced team. We understand that value for money is important, so we'll never try to sell you anything you don't need or provide you with anything other than 100% honest, reliable support.
Enterprise IT Support
The way the world looks at corporate IT is changing. It's a huge and complex area, encompassing a wide variety of specialisms and expertise – which leaves many companies struggling to find the right in-house staff.
Couno's dedicated team of IT specialists cover the full spectrum of IT support, helping larger businesses develop robust, highly functional systems that move with the times. We can assist you with everything from short-term project work and upgrades to a fully outsourced IT department -whatever your business needs, we're here to help you achieve (and exceed) your objectives.
Our enterprise support services include:
Migrations
Virtualisation
VoIP Integration
Office relocations
Network upgrades
Strategy
Project work
24/7 monitoring and support
Procurement
Telephony and communications
Office 365 for enterprises