Evoko are Swedish technology innovators, with the aim of modernising and improving efficiencies of meeting spaces in organisations across the globe. Their original touchscreen meeting room solution, the award-winning 'Room Manager', was the first of a series of products that would continue to revolutionise the way people meet.
Let's learn more about the vast range of Evoko products.

LISO
The next generation room manager
Since 2010, Evoko Room Manager has taken the hassle out of room bookings. This was the original touch-screen solution for all your meeting rooms. No more double bookings, confusion and interrupted meetings. Now we are launching the next generation of meeting room booking system: Evoko Liso. Even brighter and lovelier to look at, believe it or not. With the same mission as ever – making sure all your meeting rooms are being used in a truly effective way.
---

NASO
Room booking and beyond
A room booking system is more than just a list of features. We believe it must be simple to use and look sublime in any office. Created by their award-winning design and development team, the Evoko Naso sports an intuitive lighting system that guides you to the right room. There is also a proximity sensor that displays relevant information as you approach the screen. Evoko guarantee best in class quality, security and functionality for both the hardware and software. This, paired with a seamless set-up process and their trademark intuitive interface, offers next generation simplicity.
---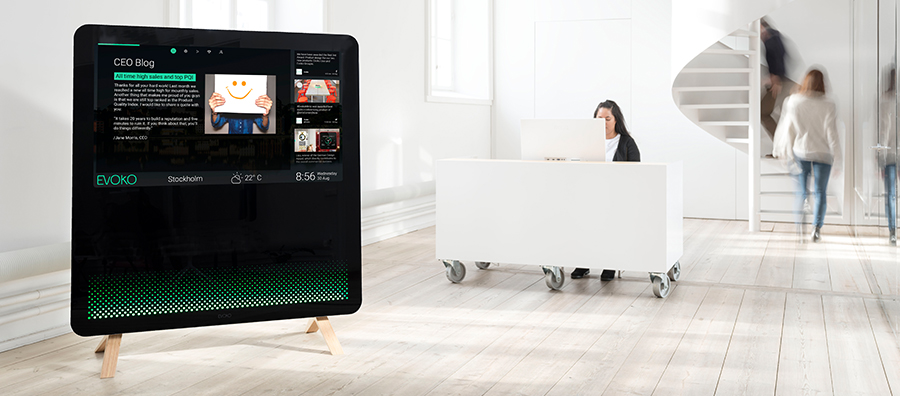 PUSCO
Complete system for workplace communication
The next level of digital signage for your office or lobby is here. The Evoko Pusco is an indoor electronic sign and works like a freestanding digital posting board where you can easily communicate internal and external messages to your visitors and employees. To get started, just plug in two cables and you are ready to reach out with your message.